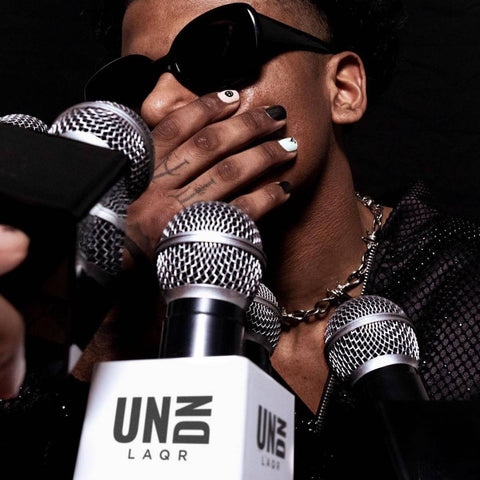 Trendy Ways to Wear Black Glitter Polish
Have you ever gazed at a night sky ablaze with stars and marveled at its bewitching charm? The same magic is captured in a bottle of
black glitter nail polish
. This unique polish brings a star-studded sky to your fingertips, making every gesture a stunning spectacle. As it encapsulates the mystery of night and the glitz of glitter, it effortlessly delivers a dramatic, sophisticated, and chic look, whether you're going for a casual hangout or a gala event.
The color black carries an emotional and psychological weight that is incomparable to other shades. It exudes power, elegance, and an air of intrigue. When adorned with the shimmer of glitter, this
black polish
evolves into an emblem of boldness and confidence. It becomes a versatile accessory, enabling you to express different facets of your personality.
Tailoring Black Polish to Your Style
Embracing black glitter polish doesn't mean leaving your personal style behind. This section will guide you in tailoring the dark, shimmering allure to suit your unique fashion aesthetic, making it a versatile addition to your
nail polish kit
.
Discover Your Style Code
While the mysterious allure of black glitter polish is undeniable, it's crucial to align it with your personal style. Are you a lover of minimalist fashion, or do you lean towards the extravagance of statement pieces? Irrespective of where you fall on the style spectrum, the versatility of
the
best black nail polish
guarantees its place in every nail polish kit.
Color Chemistry
The beauty of black glitter polish lies in its ability to play well with a range of colors and textures. Team it up with complementary shades like silver, gold, or white for a sophisticated ensemble. Alternatively, opt for contrasting hues such as pastel pinks and blues for a playful, vibrant look. The goal is to make your black glitter nails a harmonious extension of your outfit, amplifying your overall appeal.
Black Polish for All Seasons and Reasons
Black glitter polish isn't reserved for special occasions alone. Discover how you can flawlessly incorporate this shade into your daily wear and event-specific ensembles, accentuating your looks with a sparkly twist.
Everyday Elegance
Don't limit the beauty of black glitter polish to just special occasions! Break away from the norm and embrace the allure of this mesmerizing shade in your everyday routine. No matter if you're heading to an important meeting or enjoying a casual brunch with friends, sporting black glitter nails will instantly elevate your look. Including this must-have black glitter nail polish in your collection, you ensure that you always have a go-to option that effortlessly exudes style and elegance. Embrace the power of everyday glamour!
Special Occasions Galore
Black glitter polish is a versatile gem that can effortlessly transform your appearance for any special occasion. Whether you're attending a glamorous red carpet event, going on an enchanting date night, or celebrating at a lively holiday party, black glitter polish is your secret weapon to upgrading your look from simple to standout.
It has the remarkable ability to create striking contrasts when paired with a vibrant, colorful dress, or it can complement your timeless little black dress by adding a dazzling twist to the classic
matte black nail polish
aesthetic. Embrace the captivating allure of black glitter polish and let it be the star of your next memorable event, ensuring all eyes are on you as you shine with confidence and style.
Perfecting the Application
Applying black glitter polish flawlessly requires a little know-how and finesse. To achieve a truly stunning result and ensure a long-lasting finish, it's essential to master the art of application. Here, we provide you with some invaluable tips that will help you apply black glitter polish like a seasoned professional.
The secret to achieving a flawless look with black glitter polish lies in the technique of layering. Begin by applying a base coat to provide a protective barrier for your nails. This will help prevent staining and promote the longevity of your manicure. Once the base coat has dried, proceed to apply thin coats of your black glitter nail polish. Applying thin coats ensures an even distribution of the glitter particles and helps prevent clumping or streaking. Allow each coat to dry thoroughly before adding the next layer to avoid smudging or ruining the previous application.
To seal and protect your stunning black glitter manicure, finish off with a topcoat. The topcoat not only adds shine but also helps to lock in the glitter particles, enhancing the durability and longevity of your manicure. Remember to apply the topcoat along the tips of your nails to minimize the risk of chipping.
Following these expert tips, you'll soon become a master of the black glitter polish application process, allowing you to make the most of your nail polish kit and effortlessly achieve salon-worthy results at home.
Going Green with Nail Polish
Beauty doesn't have to come at the cost of ethics. The world of vegan and eco-friendly nail polishes offers an array of guilt-free choices. Learn about the benefits of these ethical options and why they deserve a place in your
nail polish set
.
The Perks of Vegan and Cruelty-Free
When considering nail polish, the term 'vegan' may not be the first thing that springs to mind. However, the benefits of choosing
vegan nail polish
are manifold. From being free of harmful chemicals to ensuring ethical manufacturing practices, the
best vegan nail polish
provides you with guilt-free beauty. When it comes to black glitter polish, several
vegan nail polish brands
offer options that combine quality, durability, and ethical standards.
The Rise of Eco-Friendly Options
As environmental consciousness is on the rise, so is the demand for eco-friendly products.
Eco-friendly nail polish
, like black glitter nail polish, ensures that your beauty routine doesn't harm the planet. This nail polish type minimizes environmental footprint by using sustainable ingredients and packaging, adding another feather in its cap. So, if you want to be glamorous and green, make sure to include eco-friendly options in your nail polish set.
The magic of black glitter nail polish lies in its ability to create a visual symphony that's chic, sophisticated, and versatile. It is a timeless addition to any nail polish kit, promising a look that is both captivating and enigmatic.
As you embrace this stunning shade, remember that the best black nail polish is not just about the color or the finish. It's about choosing a product that aligns with your style, your conscience, and your love for the planet.
So, whether you're wearing it for daily chic or for an event's glamour, whether you're using an eco-friendly polish or a
cruelty-free nail polish
, remember to let the black glitter do its magic. After all, when your nails reflect the night sky, every gesture becomes a tale of enchantment.