Ships within 7 days
Nail Treatment Duo
UN/DN LAQR
Regular price

$20.00
Sale price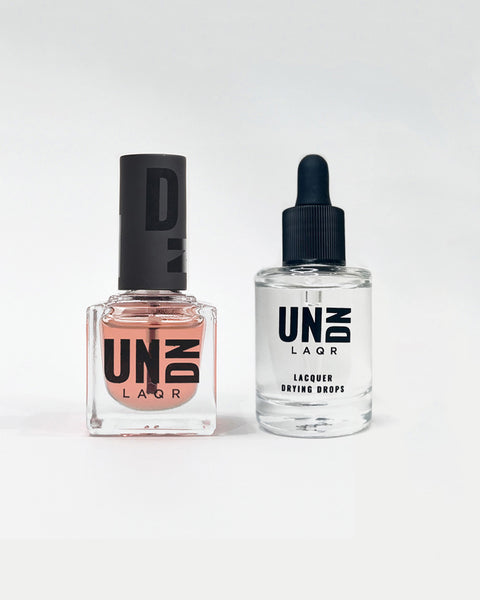 Your nails will thank you!
Dive into our nail care experience with our new special duo. Indulge in the moisturizing magic of our Piña Colada Cuticle Oil and save time with our Quick Dry Drops.

Piña Colada Cuticle Oil:
Hydrate and nourish your nail beds with our Piña Colada Cuticle Oil. Specially formulated to moisturize your cuticles, it promotes healthy nail growth by nourishing the nail bed. For best results, use your UN/DN LAQR Cuticle Oil daily at bedtime. If applying post-polish, ensure the LAQR dries before oil application.

Quick Dry Drops:
Looking for the fast lane? Our Quick Dry Drops have been crafted to accelerate your UN/DN LAQR dry time. After polishing and top-coating, hold the Quick Dry Drops about 1/2 an inch above your nail. Dispense a small drop onto each nail, wait for a couple of minutes until dry to the touch, and then rinse.

Product Details
Benefits
Vegan  / there are no animal ingredients in our products.
Cruelty Free  /  our products have not been tested on animals.
9 Free  / Our 9-free formula is free of fillers and chemicals that are commonly used in nail polish. 
How to Use
First, apply a single coat of Gloss Top / Bottom Coat. Next, apply two coats of nail polish color, and finish it off with one coat of Gloss Top / Bottom Coat for a glossy look, or Nothing Matte(rs) Top Coat for a matte finish. Allow the nail polish to dry completely before taking on the rest of the day.
About Our Formula
You won't find these in UN/DN LAQR: Formaldehyde, Formaldehyde Resin, Toluene, Xylene, Dibutyl phthalate (DBP), Camphor, Parabens, Ethyl Tosylamide, Triphenyl Phosphate 9-free.