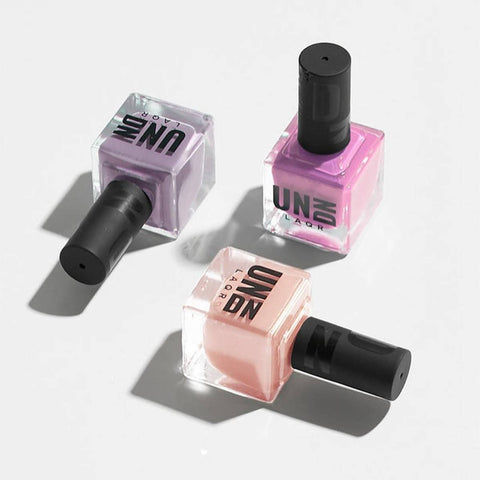 Styling Purple Nail Polish for Any Season
Purple, often seen as the color of creativity, luxury, and mystery, holds the potential to make a powerful statement. With its broad range of shades, from the delicate whisper of lavender purple nail polish to the intense echo of
dark purple nail polish
, it is perfect for making any season's fashion statement. Let's explore how you can style
purple nail polish
to match your mood, the season, and your outfit, while staying committed to conscious choices like vegan and cruelty-free cosmetics.
Decoding the Seasonal Color Palette
Understanding the color wheel and how it impacts seasonal color trends is essential to nailing your nail art. Let's uncover the magic of color theory, seasonal palettes, and the place of purple in these color transformations.
Color Theory and Nail Art
The secret to fashioning an eye-catching nail design begins with a basic understanding of color theory. Consider the color wheel, a tool that presents colors in a circle to highlight their relationships. Complementary colors - those that sit opposite each other on the color wheel - often make striking combinations. The color, placed opposite yellow, can create a contrasting look that pops.
Seasonal Color Palette Changes
Each season introduces a distinct color palette. The whispering breezes of spring call for softer, pastel hues. Summer brings bright, vibrant tones to the forefront, while autumn dials it back with muted, earthy colors. Finally, winter invites the use of rich,
deep purple nail polish
, reflecting the season's coziness.
Finding Your Perfect Purple
Purple is a versatile color, offering shades that suit all skin tones and seasons. From choosing the right shade for your skin tone to finding the perfect seasonal hue, we'll guide you through the process of finding your perfect purple.
Exploring Shades of Purple
The spectrum of the color ranges from light, airy lavender to intense, brooding aubergine. Deciding on the shade that matches your personality and the mood you want to set is the first step towards nailing your seasonal nail art.
Purple for Every Skin Tone
Beyond seasons, your skin tone also plays a pivotal role in determining which shade of purple will flatter you the most. For those with warmer undertones, darker ones will create a striking contrast. On the other hand, if you have cooler undertones, a light lavender purple nail polish will enhance your natural hue.
Coordinating Your Purple Polish
The way you coordinate your purple nail polish with your outfits and accessories can have a transformative effect on your entire appearance. To achieve a polished and cohesive look, it's important to consider how your chosen shade of purple interacts with different clothing styles and accessories. Instead of treating your nail polish as a standalone feature, aim to integrate it harmoniously into your overall ensemble.
A key aspect of achieving this harmonization is matching your outfit and accessories with your purple nail polish. When wearing neutral tones, opting for a dark purple shade can create a striking contrast and add a vibrant pop to your look. On the other hand, if you prefer a more understated and elegant approach, pairing a soft lavender polish with pastel clothing can create a subtle and sophisticated effect.
By carefully coordinating your purple nail polish with your attire and accessories, you can elevate your style and create a unified and well-put-together appearance that showcases your attention to detail and fashion sense.
Ethical Choices for Nail Beauty
Beauty choices have the power to create a positive impact on our world. From understanding the importance of choosing vegan and cruelty-free options to selecting the best brands, let's discuss how we can make our nail polish choices kinder to animals, the environment, and ourselves.
The Vegan, Cruelty-free Revolution
Making mindful beauty decisions is more important than ever. By opting for
vegan nail polish
and
cruelty-free nail polish
, you're taking a stand for a more humane and sustainable world. Brands that promote these values also prioritize safe, non-toxic ingredients, which positively impact your nail health.
Choosing Your Ethical Nail Polish
In the sea of available choices, identifying
the
best vegan nail polish
for you can seem daunting. Look for transparent
vegan nail polish brands
that openly share their ingredient lists and ethical policies. This not only ensures the product aligns with your values but also fosters trust in the brand.
Seasonal Styling Ideas for Purple Nails
Styling your nails based on the seasons can be an exciting way to keep your look fresh and trendy. Whether it's spring, summer, autumn, or winter, discover how different shades of purple nail polish can be used to celebrate each unique season.
Spring Awakening with Lavender - Celebrate the essence of rejuvenation and freshness by embracing a lavender purple nail polish. This gentle and soothing hue effortlessly complements the pastels and delightful floral prints that are synonymous with spring fashion. To add a touch of playfulness, explore nail polish sets that offer an array of enchanting pastel shades, allowing you to unleash your creativity and create a one-of-a-kind manicure that truly captures the essence of the season.
Vibrant Summer Styles - For summer, consider a bright, jewel-toned purple nail polish. Paired with vibrant summer outfits, this shade will certainly make a bold statement. Your summer

nail polish kit

could also include sparkling top coats to capture the light and give your nails an extra sparkle.
Fall into Deep Tones - Autumn calls for a return to earthier tones, and a deep purple nail polish is perfect for capturing this mood. Whether it's combined with gold accents or used as a standalone color, a deep purple polish creates a cozy, sophisticated vibe, fitting for the season of falling leaves and warm sweaters.
Winter Radiance in Dark Hues - In the chill of winter, opt for a dark purple nail polish to reflect the season's depth and richness. Dark purples also pair well with the jewel tones and metallics popular during the holiday season. A matte finish can add an extra layer of sophistication to your winter style.
Nail Polish Finishes for Every Occasion
Whether you prefer a matte, shimmer, or gel finish can dramatically change the look and feel of your chosen color. Matte provides a modern, sophisticated look, shimmer adds sparkle and depth, and gel gives a high-gloss, professional finish. Consider the occasion, your outfit, and the season when choosing your finish.
The beauty of purple nail polish lies in its versatility. From delicate lavender to dark aubergines, there is a shade and finish for every skin tone, outfit, and season. With conscious choices like
eco-friendly nail polish
, your fashion statement can also reflect your commitment to ethical consumerism. So go ahead, explore your style, and let your nails be your canvas.