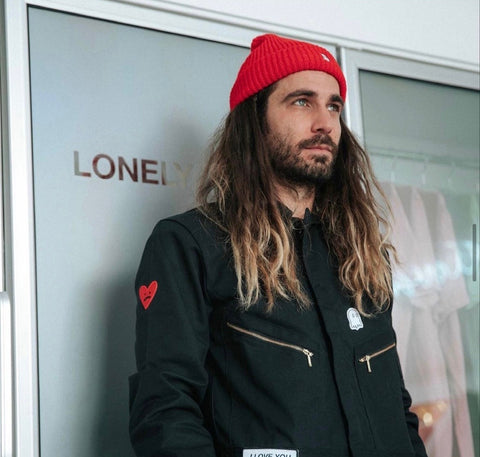 ARTIST / Bronson Christensen
Bronson Christensen - Utah
Creative media:

 Graphic design, film, photography
What was the inspiration behind Lonely Ghost?
Creating a brand that brings people together to inspire them to connect, experience life to the fullest, and to grow as individuals.
Do you think creativity is innate or learned?
Innate.
What creative advice would you give yourself 10 years ago?
Meditate. Fail a lot. Don't take life so serious.
What are some of the jobs you had before your career took off?
Window washing company, lawn mowing business, Journeys Shoes

How have you seen your own style evolve?
Not sure if it's evolved but I definitely care more about comfort than how it looks.
How did this collaboration with UN/DN LAQR come to be?
One of our main goals as a company in our 3rd year of business this year was to focus in on genuine and fun collaborations. As we were in ideation meetings about who could potentially be a cool partnership opportunity, MGK's new nail polish brand UN/DN LAQR came up, and we instantly knew it was a match made in heaven. Once we got on a call with UN/DN's team, it solidified our early intuition. We love everything they stand for, plus it's always nice to collaborate with great energy.
Where did the set names and polish names come from, and what do they mean to you?
Our ideation around this collab was all about auras and energy. We named our set of 3 the "Aura Cleanse" and our set of 6 "528Hz." 528Hz is a frequency that is known to activate imagination and intuition. It also helps to assist us in living from our higher mind and less from the ego. It's also known as the "Miracle Tone" which helps heal your body and mind on a cellular level.
Do the colors mean anything to you?
We solely picked them based off what the Lonely team is currently into. We're feeling bright and vibrant going into the summer months, and so the colors mimic our internal state
How do you want people to feel when they wear UN/DN LAQR x Lonely Ghost nail polish?
We want people to feel confident and creative. But what we would really love is for people to experience connection and create conversation or a new friend.